Follow these SEO tips for your small business:
Almost every small business is feeling the pressure to have a website if they don't already have one. A SEO optimized website can give you credibility, exposure, and a place for your customers to visit that's always open. But it's just not enough to 'have' a website—at least, not if you want your website to generate new and ongoing business! That's where SEO comes in. SEO means Search Engine Optimization. It's the ongoing process of getting your website noticed by search engines (like Google) so that they'll put your website in front of people searching for what you offer. In a nutshell, if you've got good SEO in place, the right customers/clients are more likely to find you when they search for services/products. So, let's look at the best SEO tips for small businesses:
SEO Tips: Build a Relationship with Google
Just like humans, Google won't refer you to others unless it knows, likes, and trusts you. So, if you want leads from Google, you need to work on your relationship. This is more of a general rule than a specific tip, but it's essential to start here. Google is pretty much the only portal that directs searches to a list of websites. (Yes, there are others like Bing and Yahoo, but since Google dominates with over 90% of the market share, it's most effective to focus your efforts here.) If you're 'in' with Google, you've got an online presence. The flip side is that if Google blacklists you, no one will find you. Blacklisting means that Google stops showing your website in searches, stops referring any website traffic to your site, and restricts your business email (more on all that in a bit).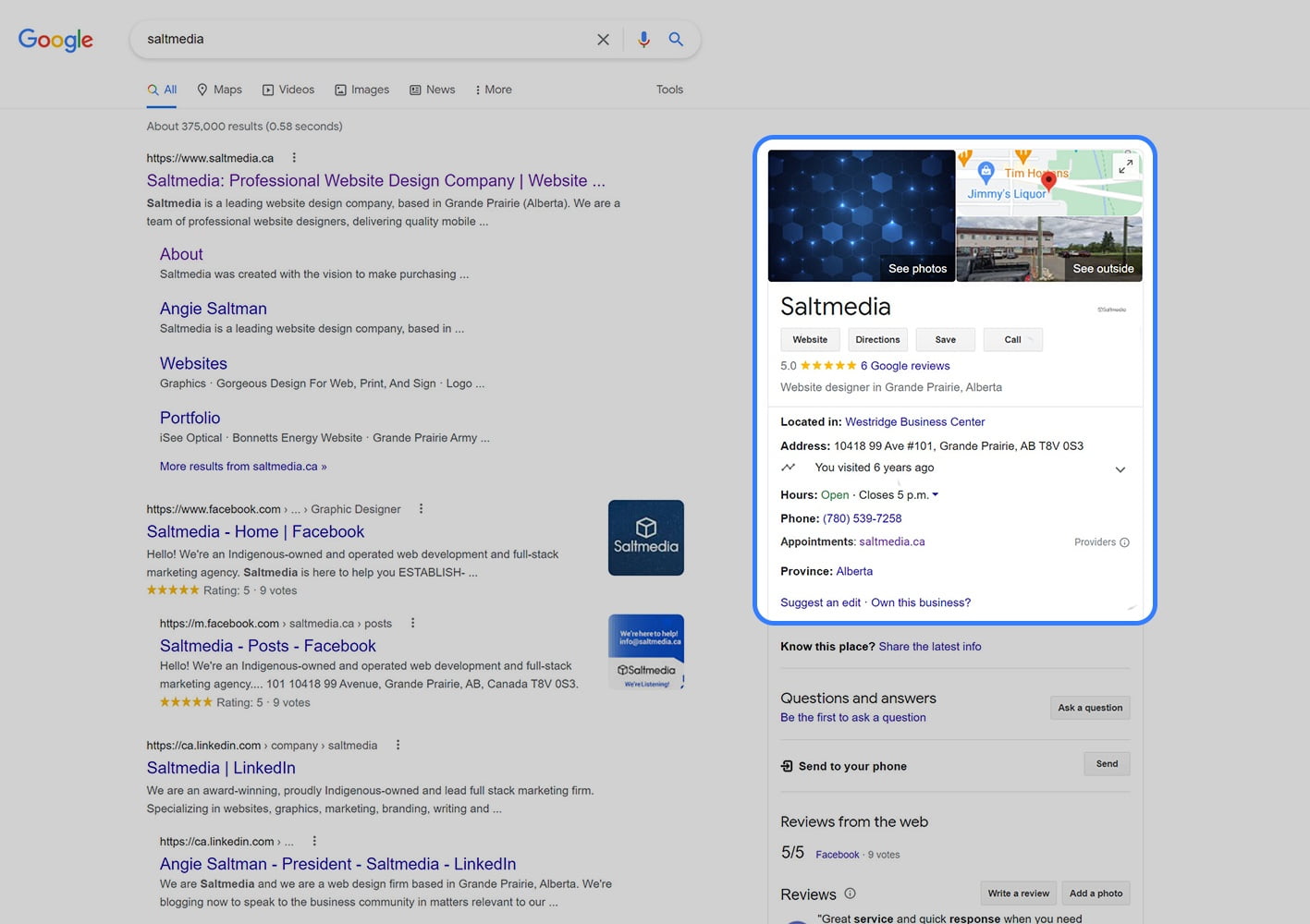 SEO Tips: Claim Your Google My Business Page
Go ahead and do a random search on Google… maybe something like 'salt media grande prairie'. Do you see that box on the right side of the search results that shows the main details about Saltmedia? That's a Google My Business Page. It doesn't automatically give the right info about your business. You need to claim it and add in your details. It takes a few days for the info to go live, but once it does, it will improve your SEO results. To get to your Google My Business page, type your business name into the search box and press enter. Usually, a box will show up on the right side of the search results with some general info. Underneath this is a tab that says, 'Claim This Knowledge Panel'. Click on it and follow the prompts.
Bonus:
This helps your business show up on Google Maps! But make sure to keep your hours of operation updated so customers always have the right info about your business. The integration of Google Maps and Google My Business has become the replacement for the Yellow Pages. Of course, if you would rather have Saltmedia handle it,
contact us
and we'll take care of everything for you.
SEO Tips: Have a Great User Experience (UX)
Never heard of UX? That's pretty common! But the way people experience your website will determine whether they stay on your site or go, and how fast that happens. This affects how Google ranks your site. UX includes having a website that loads quickly, looks interesting (a good balance of images and easy-to-view text), has a contact form that's easy to locate and fill out, and is mobile friendly. The mobile-friendly part is easy to miss. If you only test your website on your laptop or desktop computer, you won't have the same experience as anyone using their phone to search for your business. Most searches are mobile these days. So, if your mobile site doesn't work, anyone using a phone to search for you will leave your site (and Google will rank you lower for having a high bounce rate).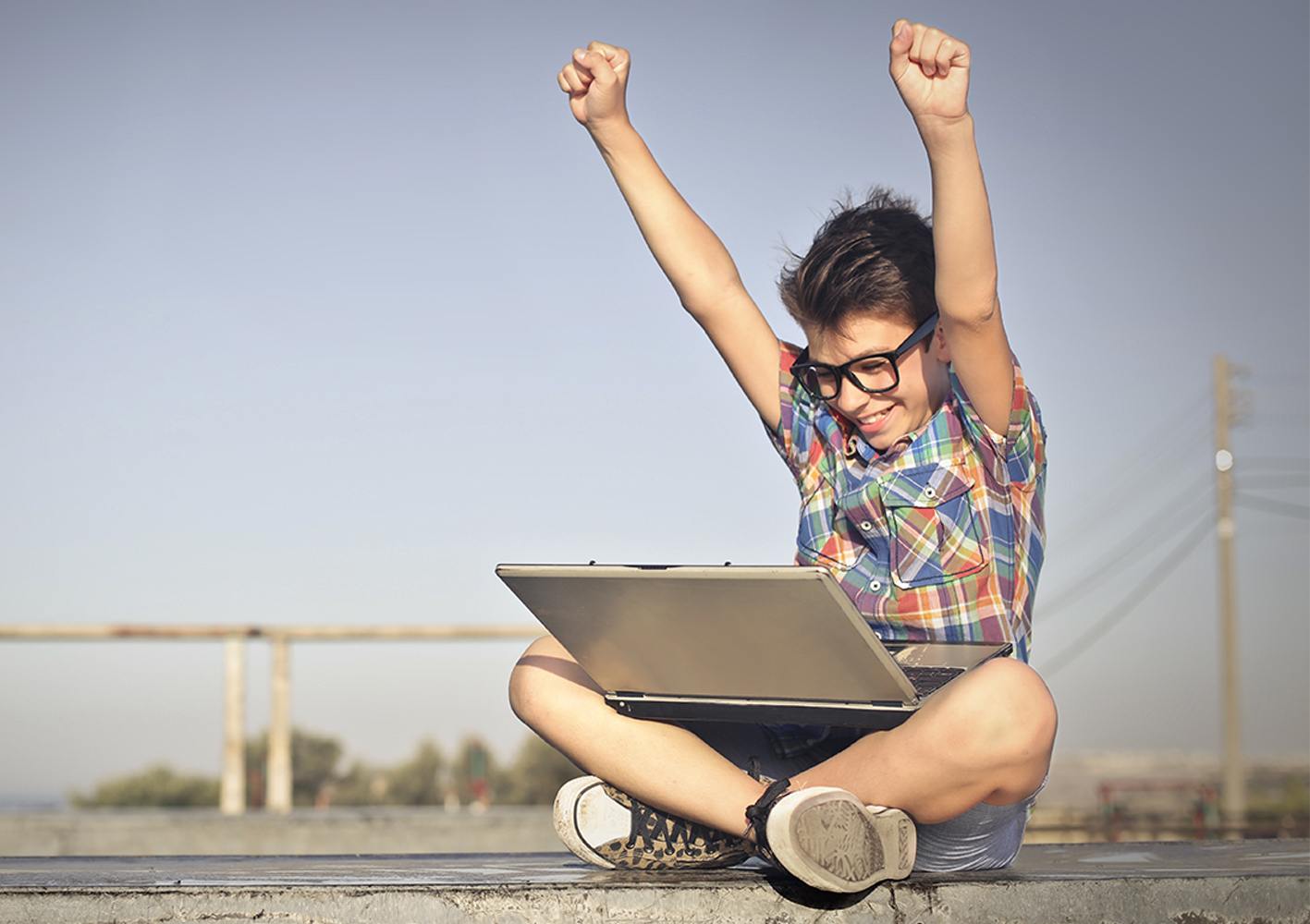 SEO Tips: Avoid Cheap Tricks
Cramming a bunch of SEO keywords into your website content is
not
going to turn out well for you (And yes, we haven't even
gotten
to keywords yet!). There are a lot of ways that a business might try to 'hack' its rankings. We won't go into them here, but if you (or your website designer) are trying to game the system, please don't. Google is ridiculously good at recognizing cheap tricks and might flag your site as untrustworthy if it finds them. Google may even blacklist you. If this happens, you're pretty much hidden from view and all the resources you've poured into developing your site will be wasted. Plus, it's challenging to come back from such a position and get into Google's good graces. Not to mention your email@yourdomainname.ca will stop working if you get blacklisted. All this can seriously impact your business, and it can take weeks to get a domain name off a blacklist. That's a lot of risk just to save a few bucks. Instead, do your site right. Include good, intelligent content. Use links when they're appropriate. Don't trick people into clicking on your page—they won't be your target audience, anyway. Here at Saltmedia, we only use legitimate, proven strategies to get your site ranking on the first page of a Google search.
SEO Tips: Put Keywords to Work
Yes! We're finally on to keywords! There are two categories to consider for keywords:
What clients type into searches when looking for your type of business
The words that describe your business
Of course, those two categories often overlap, but it helps to think of them separately. For example, some of our clients found us by searches like 'web design Grande Prairie'. Others found us by searching for things like 'website designer oil and gas' or 'fix website ranking near me'. So, what words do people use to find you, and what words do people use to describe you? These are usually your top keywords. Once you've identified your top keywords, you need to blend them naturally into your web content. We've all read content where it's painfully obvious that they've just stuffed keywords in without much thought. Not only does this turn off customers, it turns off Google. The Google algorithm is smart enough to recognize well-written content where keywords are an appropriate part of the entire website. So, use your keywords wisely! One thing that's really good for keywords is using them in headings and subheadings. (That's why every one of the subheadings in this blog starts with 'SEO Tips'.) This also draws the eye to your most important words, so it improves the UX (user experience) at the same time. If it helps, imagine a potential client logging onto your website in a hurry. What words do you want them to see quickly and easily? Probably your keywords, right? Use subheadings to make it easy for the eyes to find those keywords.
SEO Tips: Backlinks are Fun!
Backlinks are links right in your content that lead to other information on your website. It helps visitors go right to the content they're looking for, keeps them on your site for longer (Google likes this), and builds credibility. In fact, backlinks are the single most important step you can take to get your website found on Google—and it's really really good if other credible businesses also place links on their site to your site. Every time good businesses refer/link back to you, Google 'trusts' you a little more. But try to limit this to businesses that will boost your reputation (no shady deals that will charge you to get "thousands" of new clicks).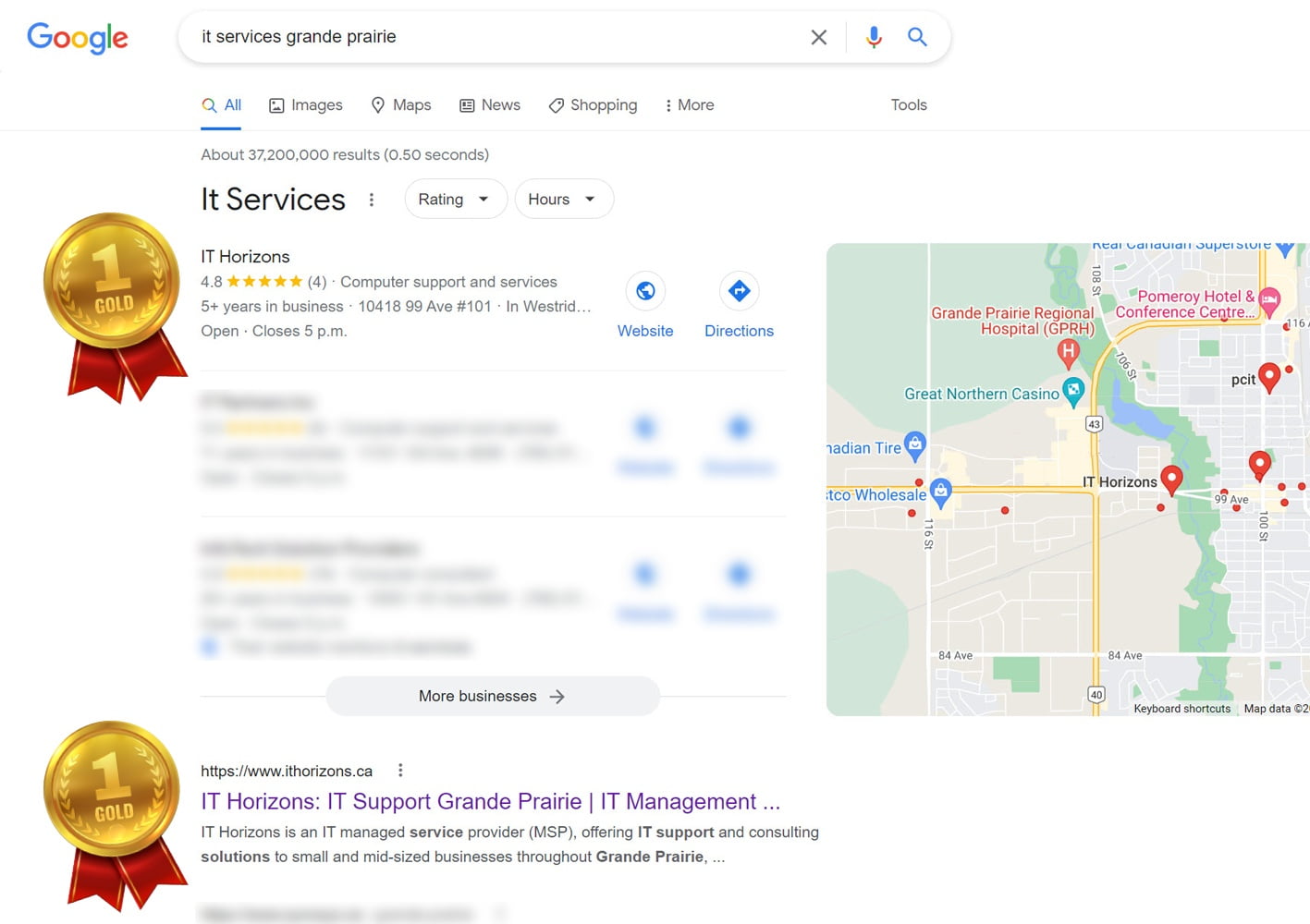 As far as your own backlinks, place them where they fit comfortably with your content. Did you see the link we added to the 'contact us' call to action about claiming your Google My Business page? If a reader decided right then and there to contact us, we made it easy for them! You can also place backlinks to other pages that describe your services, blogs on your page, and even testimonials. It's also good for rankings to place some links in your content to other verified sites that offer relevant, reliable information. For example, if we were writing about the importance of backlinks, we might add a link to SEMrush's
Backlink Analysis.
It's a well-known site that many businesses use to gather and develop information for their websites.
Go ahead and type a random search into Google. Do you see how each result shows the website, a larger title, and then a smaller description? That description is called the meta description, and almost always influences a person's decision to click on a website. You can set up your meta description on your website dashboard, or
contact us to
do it for you. A good meta description is less than 120 characters and describes your business/website in a clear and interesting way.
SEO Tips: Add Alt Text to All Images
Alt text is the description of any image/photo that's visible when you hover over the image. And it does an important job: alt text makes images 'visible' to those with disabilities—in particular vision difficulties. People using screen readers rely on alt text to know what images are. Adding alt text makes your website more accessible, which can set your site above competitors. It will also show up in cases where your images don't load (when someone has a weak Wi-Fi signal or an older device), and it contributes to Google's algorithm for ranking your site!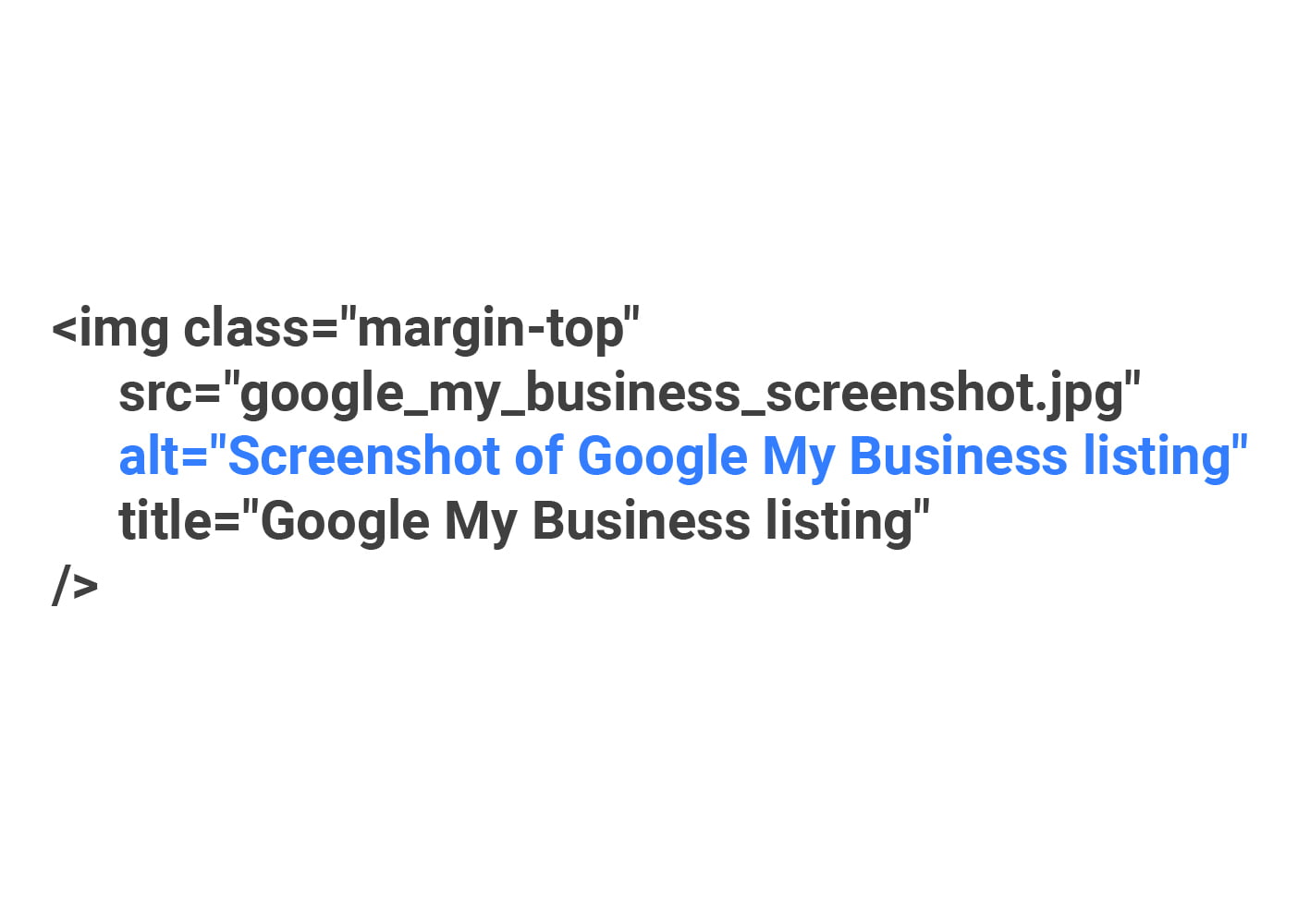 So, add alt text to every photo using a clear description of the image and tucking in those keywords whenever it's appropriate.
SEO Tips: Write for Humans and Search Engines
Try not to get overwhelmed with all the technical aspects of SEO. First and foremost, your content needs to be created with real people in mind. Know your target audience, the things that matter to them, and how your business solves their pain points.
Use all the technical aspects to polish up your content for good search engine optimization, and you'll be ready for your future customers/clients and the great Google algorithm to find you.
If you have any questions about your website, or need some help to improve your Google rankings, please get in touch with us. We're here to help your business succeed online!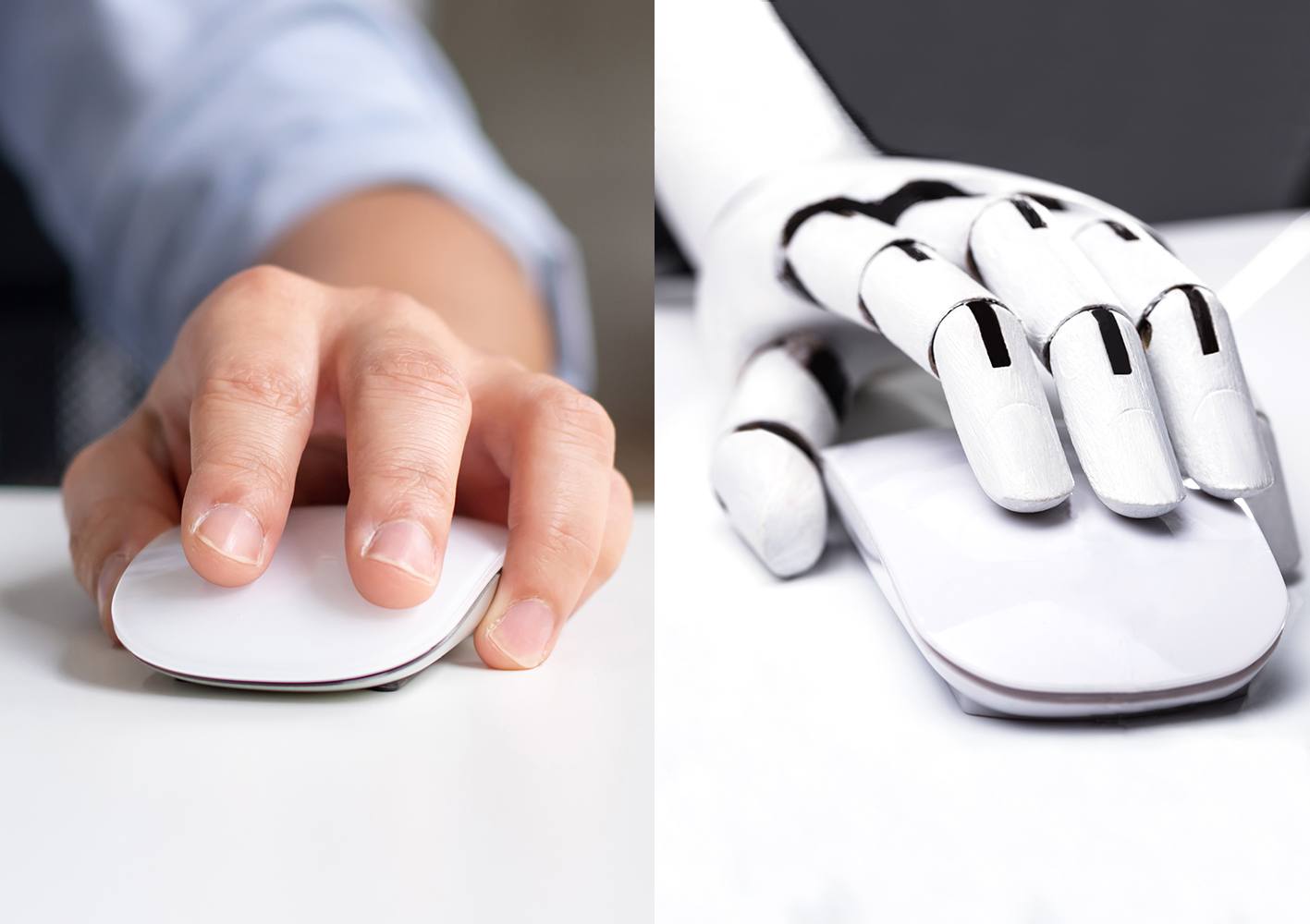 Also make sure to keep your store hours updated! A lot of people use this service and if they show up to your business when Google says your open but your not... there is a good chance they will not come back again. Google My Business (directly integrated into Google Maps) basically is the replacement for yellow pages.